JWW-03 Kft Jug ch Bundessgr.04 Fin uch DK uch Nuch Nord uch NV-04

Kramer's Night Rider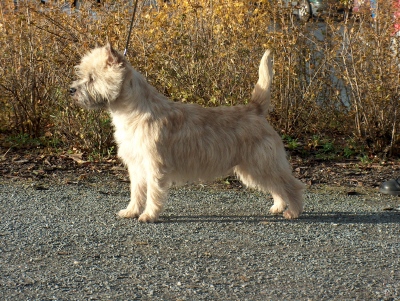 Her er den nye"Godgutten" vår på Kennel Kramer. Basse har lenge vært alene som hanne her hjemme og nå bestemte vi oss for at vi ville beholde en hannhund på denne spennende kombinasjonen.
Hektor er en herlig hanne som er i en meget god balanse både eksteriørt og ikke minst mentalt. Vi har store forventninger til ham i tiden som kommer. Og han har levd opp til forventningene.
Jww-03, Kft Jug.Ch Bundessgr. A 04 Fin uch Dkuch Nuch Int. Uch Nord Uch NV-04
Kramer`s
Night Rider
********BOB-CRUFTS 2005********
Where do we start, and what can we say...woooow, BOB on Crufts, it is a breeders dream coming true!!!!
On the worlds largest Dog Show, CRUFTS, 24000 dogs in 4 days, 129 in the breed, 2300 Terriers and to be selected in the Big Ring, between the 8 best Terriers, in the Lions heart, it feels fantastic!!!! Proudness, and a dream coming true. And we have to admit, this is a breeders dream coming true, win on Crufts!! Thanks for all support, Sue, thanks for nice words in DOG WORLD, thanks to Mrs. Liz Hooton, the judge, for realize our dream, thanks friends and puppy buyers for all support, thanks to Atle and Dagny, We don`t know how to manage whitout you!!!!!! And on the very big day you putted the rings on your hands, one or two tears came, what a day!!!!!!!!!!!
All years with this wonderful breed gave payback in many ways, among many winning dogs, Hektor is one of the mostwinnings, it feels good, and to refer to the judge, Miss. Hootons Critique it is exactly what we feldt the day picking him, balanced, typish, a Cairn!!. This is tears in our eyes in the writing moment, because the mother of the winning dog ,Ch. Rottrivers Soffipropp passed away some months ago, so the wictory became something special. Anyways I wasn`t able to be home when Soffi passed away, but We got so mutch from here, thanks our little brave girl for providing us so mutch love, quality and beautiful offsprings. We always said, if somethings happens in Finland, nobody is to be left there!!!! And you are here with us, that promiss, we have kept.
Mira and me wan`t to thank the parents and the breeders to our dog, Kennel Rasken and Kennel Rottrivers for providing us such an exellent breedlines, but also too ourselves, providing the Kennel such a quality, we had a hard time choosing the boy in a litter of 5 males:o)))))) Think we did a good job. And when we went out to find a dog on Soffi`s last litter we searched for a male for at least 1 year. And Rasken`s Ready Steady Go gave us exactly what we expected, type and temper!!!!
We are very proud to announce that we where the first breeder in Norway showing Terrier on Crufts, that was Int. Multi. Ch Kramer`s Geronimo 3 years ago. Thanks Linda, for giving us the hounor to be the first Norwegian Terrier showing in Crufts:0)
For Mira and me it was a pleasure to be in Crufts, to meet you all there and we got a chance to see many beautiful dogs, from UK, Scandinavia, meeting a lot of nice Cairn friends, thanks to you all for all support and we will be back on this magnificent show, whit or whitout dogs.
Best from
Eigil and Mira
Kennel Kramer
Norway
Pedigree

JWW-03 Kft Jug ch Bundessgr.04 Finuch DKuch Nuch Nord uch NV-2004
Kramers Night Rider
Breeder/Owner: Eigil Karlsen/ Mira Virtanen

Born: 23/05/02
Sire:
SUCH DKUCH JEUW-99
Raskens
Ready Steady Go
MULTI CH.
Raskens Red Ranger
INT. NORD UCH SV-98
Raskens Robbie Robinson
SUCH
Tribuns Yrsa
SUCH DK UCHEUW-97 KBHV-97
Penticharm
Lucky Heather Of Paracairn
GB CH
Vanajam Norse Voyger
Penticharm Secret Mission
Dam:
NUCH
Rottriver's Soffipropp
INTCH NORDCH NV-95 SV95 Rottriver's Battle Chief
INTCH NCH NV88
Skean-Dhu Rough Diamond
SCH NUCH
Sarimont Sweet One
Rottriver's Livin' Doll
NUCH SCH Rockamore Duncan
Rottriver's Lioness
---
© 2000 Kennel Kramer - Design: Ruth Sheila Rolstad - webmaster
No part of this homepage may be copied or re-used without expressed written permission.
All material on the homepage are original photographs and are the copyrighted
property of the original photographer. Graphics and photographs may not be copied,
distributed, sold, or used in any way without permission.