"ÅRETS CAIRN 2000"
NUCH SUCH KRAMER`S BENEDICTE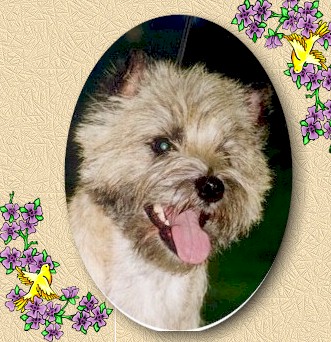 Benedicte taler for seg selv. Norges mestvinnende tispe i 1999 sammen med sin søster Nuch Kramer`s Beatrice, og hun har nå klart å bli" Årets Cairn 2000 ". Hennes far Nuch Reigab`s Zorro var sågar " Årets Cairn 1999 ", hennes mor Nuch Rottriver`s Soffipropp er også en gjengganger på Årets Cairn listen, så hun har noe å slekte på. Benedicte har tatt med seg 7 BIS plasseringer siden Juni 2000. Dette er vi meget stolte av!!
N S uch Kramer`s Benedicte has the following BIS showresults to be proud of:

Judge:

"OPEN SHOW" BOGSTAD

04

.

06

.

2000

BIS

B.FOSS, NORWAY

TRONDHEIM HUNDEFESTIVAL

27.08.2000

BIR-BIS 3

G. BODEGÅRD, SWEDEN

GUDBRANDSDALEN H.K

01.09.2000

BIR-BIG-BIS

B. FOSS, NORWAY

"OPEN SHOW" DAGALI

03.09.2000

BIS

K. KRISTIANSEN, NORWAY

DALANE H.K

29.10.2000

BIR-BIG-BIS

W. HUBENTHAL, NORWAY

KONGSBERG H.K

05.11.2000

BIR-BIG-BIS 3

A. KRASILNIKOV, DENMARK

STORD FITJAR H.K

14.02.99

BIR-BIG-BIS 5

G. HICKEY, UK
Pedigree/Stamtavle
NUCH SUCH Kramers Benedicte
Breeder/ Owner: Eigil Karlsen/ Finn A. Johannessen
Born: 11/04/98
Sire:
NUCH
Reigab's Zorro

NUCH
Uniquecottage Ben Aslak
GBCH
Uniquecottage Bristlebird
GBCH Uniquecottage Kittiwake
Nuch
Reigab's Tara
NUCH Uniquecottage Gold Rust
NUCH Reigab's Irma
Dam:
NUCH
Rottriver's Soffipropp
INTCH NORDCH NV-95 SV95 Rottriver's Battle Chief
INTCH NCH NV88
Skean-Dhu Rough Diamond
SCH NUCH
Sarimont Sweet One
Rottriver's Livin' Doll
NUCH SCH Rockamore Duncan
Rottriver's Lioness
---
© 2000 Kennel Kramer - Design: Berit Rosenfeldt - webmaster
No part of this homepage may be copied or re-used without expressed written permission.
All material on the homepage are original photographs and are the copyrighted
property of the original photographer. Graphics and photographs may not be copied,
distributed, sold, or used in any way without permission.